DiSEqC Switch S16-W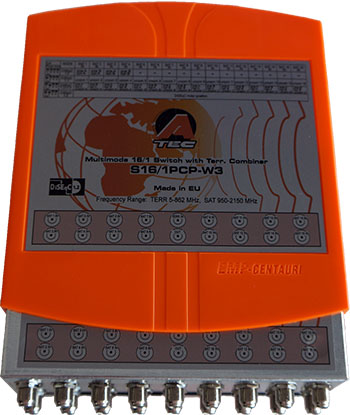 Overview
17in/1out 1.1&1.2 switch for up to 16 satellite positions and 1 subscriber, equipped with combiner for terrestrial band. It is designed for switching between 9 to 16 LNBs. Control mode is configured using built-in DIP switch, see Instruction manual for details.
Features
Weatherproof outdoor plastic housing.
Support for Twin/Quad/Octo LNB ("High ISO").
Configurable operation mode DiSEqC 1.1/1.2.
Terrestrial input.
Short-circuit protection.
Extended temperature range.
Specifications
Number of Inputs

17

Number of Outputs

1

Frequency range input

LNB 950-2150 MHz, Terr. 5-862 MHz

Frequency range output

5-2150 MHz

Control

DiSEqC 1.0, 1.1, 1.2 commands

Insertion loss (avg)

Sat. 5 dB, Terr. 2 dB

Sat. inputs isolation

25 dB min

Maximum Output Level (avg)

97 dBµV

Power consumption

From receiver 80 mA (18V) + LNB, LNB current 400 mA max

Dimensions (w,d,h)

17.2 x 20 x 6.9 cm

Temperature range

-30 ~ +70 °C
Utilization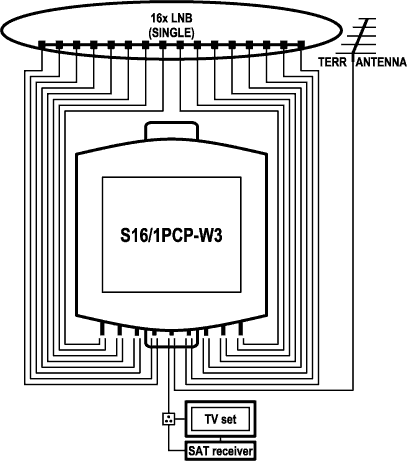 Downloads
Instruction Manual and Technical Specifications

Download